Inland Marine Numbering / Stencil Kits
Meet US Coast Guard Requirements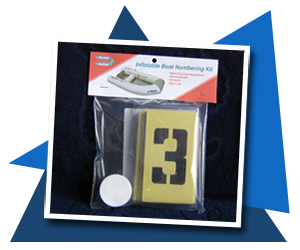 Rename or apply a custom message to your dinghy.
Each kit contains a complete set of 3-inch high stencils with all numbers and letters, a brush and our special paint in your choice of colors. There's more than enough paint to provide a permanent registration number and name on your inflatable.
Stop Theft
Theft is a real problem for inflatable boat owners worldwide. Many inflatable boats look alike; it is easy to remove glue-on numbers or numbers that are painted on with paints that are not made for inflatable boats.
Like our Top Side Paint, the paint in our Numbering Kit has the elasticity needed to stretch and shrink as the air in the chamber expands and contracts.
The primary reason we developed our Numbering Kit was because we received a large number of requests from boaters in the 1980s and '90s requesting a numbering system for inflatable boats that could not be easily removed by thieves.
When used according to the instructions provided, the numbers applied with our Numbering Kit can only be removed by abrading the numbers off the inflatable. This makes your inflatable boat much more secure and will cause potential thieves to move on to an easier target.
Still Have Questions?
We welcome your questions at Inland Marine and would be happy to help you in choosing the right product for your restoration project. Just let us know!