Liquid Rubber® for Re-skinning Inflatable Boats and Rafts
$77.21
Inland Marine Liquid Rubber® is truly a unique breakthrough in the rubber field. For the first time we are able to get 100% pure EPDM liquid-form rubber to cure without vulcanizing (applying high heat and pressure at the same time, which is what the manufacturer did when your boat was made). The consistency of honey, Liquid Rubber "paints" on to form a seamless, leakproof membrane of pure rubber. Available in gray, white and black, one quart will renew a 10-foot boat with a coating 5-7 mils thick, when applied according to the easy-to-follow instructions. (If you can paint a wall, you can do this.)
Since the original skin of most inflatable boats is 5-6 mils thick, Liquid Rubber truly renews and restores your boat to its new condition, even if your boat has lost some of its outer skin and even if the fabric is showing through. Years of use can wear the outer surface of your inflatable; abrasion and UV exposure can make your boat look old and worn-out and can cause slow leaks. Use Inland Marine Liquid Rubber to spot-repair or reinforce those heavy wear spots before they wear through. Or, re-skin the entire boat with Liquid Rubber to add years of serviceability to your boat. Liquid Rubber can be used again and again in the future to restore your boat's original look.
Can I paint Liquid Rubber?
Liquid Rubber is available in Black. You may not want or need to paint your inflatable after you use Liquid Rubber to re-skin it. However, if you do want to paint it, you should use Inland Marine USA's Topside Paint.
Our Topside Paint is mixed with our Sealant to provide an extra bond and seal for your inflatable. Elasticity is important when painting an inflatable boat and Inland Marine's Topside paint exceeds these requirements. Your inflatable boat will expand and contract when it is exposed to the sun and shade. If the paint you use does not have the elasticity to adjust to these changes, it will crack and peel. Inland Marine USA provides Topside Paint in seven (7) colors so you can paint your boat, or creatively make it unique and easier to find when in a busy port of call.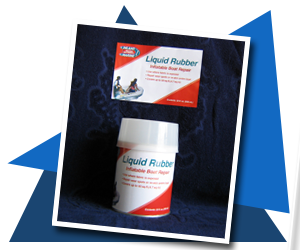 A full selection of Inland Marine repair and maintenance products
to ensure your inflatable craft is war-ready