Repair Tears and Holes with our Patch Kits!
IMPORTANT!!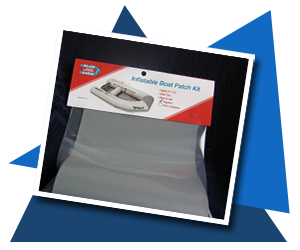 Be sure to check out our Getting Started information before beginning any inflatable repair project!
Repairing an Inflatable Boat usually involves patching holes. (For re-skinning worn areas, read about our Liquid Rubber product.)
Two types of holes are common in inflatable boats; holes you can see and holes you cannot see. For the holes you can find, the best repair is always to patch it with material and glue. You will need to know the material your boat is made of (Hypalon or PVC) as the better glues are specific to the material. Click here to read more about inflatable boat materials.
Inland Marine USA provides Patch Kits for either Hypalon or PVC boats. The kit includes a 4 oz container of the appropriate glue for the material, and a 6" x 12" piece of material. In most cases, an external patch is sufficient, but for larger holes (1/2" diameter or more), we recommend an internal patch in addition to an external patch, thus sandwiching the hole between two patches.
The second types of holes are what boat manufacturers call "porosity." All inflatables, regardless of manufacturer, develop pinhole leaks over time. Typically, your boat loses air over a day or two but you cannot find a hole on the outside to patch. We make our Sealant for this repair. Inland Marine USA Sealant has been used by the US Navy, Coast Guard, and boaters worldwide since 1985. It is an internal sealer that cures 100% and can be used on any type of boat, (Hypalon or PVC/Neoprene).
Still Have Questions?
We welcome your questions at Inland Marine and would be happy to help you in choosing the right product for your restoration project. Just let us know!