Inland Marine USA Top Side Paint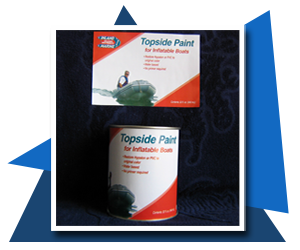 Inland Marine Top Side Paint® is specially formulated to have the elasticity and UV resistance required for use with inflatable boats. Because inflatable boats expand in the hot sun and contract at night in the cooler temperatures, constantly flexing, ordinary paint or vinyl stick-on numbers will not stay on an inflatable boat for more than a few weeks. But we don't stop there! We mix our Sealant in our Top Side Paint to further enhance the airtight integrity of your inflatable.
Inland Marine TopSide Paint® is available in Red, International Orange, Yellow, Royal Blue, Grey, Black or White.
Tips on using Top Side Paint for Inflatables
Inland Marine USA's paint may be used on new inflatables to make them look new or on old inflatables to make them look new again.
We recommend that you use our Liquid Rubber before you paint your inflatable. This will make the surface of your inflatable like new. Many of our customers have used Liquid Rubber and our Top Side Paint to repair and restore inflatables that were 10 to 15 years old. To make your inflatable more reliable, use our three-step process:
Seal It
Re-Skin It
Paint It
Of course, we recommend using Inland Marine USA products! When you're done, identify your boat using our almost indestructible Numbering Kits.
Still Have Questions?
We welcome your questions at Inland Marine and would be happy to help you in choosing the right product for your restoration project. Just let us know!